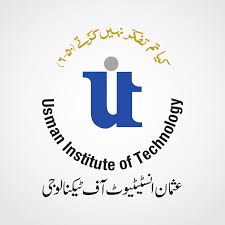 Usman Institute of Technology Karachi
Usman Institute of Technology UIT's campus is located at the intersection of University Road and Abul Hasan Isphahani Road, Gulshan-e-Iqbal, Karachi, Pakistan. 
The institute offers undergraduate studies in engineering and computer science programs. All Undergraduate Degree Programs of Usman Institute of Technology is affiliated with the NED University of Engineering and Technology. Students, who comply with the conditions prescribed by the University and successfully fulfill the requirements of the degree programs, are awarded degrees by NED University of Engineering & Technology, Karachi.

The vision of the Usman Institute of Technology is to be a center of excellence for creating new and useful knowledge and to produce professional leaders who could compete with the best in the world and bring about a paradigm shift in the quality of life of the people of Pakistan.
The mission of the university is to create new and useful knowledge for solving Pakistan's and international problems and produce leaders who are technically excellent, socially, and environmentally responsible, innovators, professionals, and entrepreneurs who would act as change agents for the betterment of society and Pakistan.
Usman Institute of Technology Admissions, Departments and Scholarships
Usman Institute of Technology Karachi offers undergraduate and graduate programs. Students can apply online. University will then assign the entry test date.
Selection Criteria for Undergraduate Programs
Candidate passed 12 years of field related education.
50 % in metric and intermediate.
50% marks in the entry test.
Selection Criteria for graduate Programs
16 years of education with at least a second division from any recognized institution.
50% marks in the entry test.
Minimum 2.2 CGPA
Selected students will be screened during the interview.
Department of Electrical Engineering
| | | | | |
| --- | --- | --- | --- | --- |
| Programs | BS | M.A/M.Sc | MS/M.Phil | Ph.D |
| Electronic | ✔ | | | |
| Power | ✔ | | | |
| Computer System | ✔ | | | |
| Telecommunication | ✔ | | | |
Department of Computer Science & Software Engineering
| | | | | |
| --- | --- | --- | --- | --- |
| Programs | BS | M.A/M.Sc | MS/M.Phil | Ph.D |
| Computer Science | ✔ | | | |
| Software Engineering | ✔ | | | |
UIT provides several scholarships for brilliant and needy students. It even provides fully funded foreign scholarships to do Master for brilliant UIT graduates.Some of the scholarships are
Siblings concession
Hamida Begum Scholarship
UIT Alumni Association Scholarship
Hardship concession
Haji Hasham Foreign Masters Scholarship
Hey, I'm about to take admission in @UITKarachi. 

What's your feedback on that?

#Usman_Institute_of_Technology #UIT #Karachi #Jaamiah
Usman Institute of Technology has a great position in research and development. There are numerous benefits for undergraduate students who get involved in the research. Research experience allows undergraduate students to better understand published works, learn to balance collaborative and individual work, determine an area of interest, and jumpstart their careers as researchers. Through exposure to research as undergraduates, many students discover their passion for research and continue to graduate studies and faculty positions.
Usman Institute of Technology Karachi conducted various seminars and workshops. Some of them are
Seminar on "How to make Digital Pakistan"
Seminar on "Emerging Technologies"
Seminar on "Mind Engineering"